I don't know about you but I have been ordering more and more things from amazon, although only if they are prime of course! I love the convenience and getting my items in 1-2 days. I wanted to refresh my closet with a few spring and summer pieces with some fun accessories and a few extras, too! Here are my recent purchases from amazon. And did I mention they are all under $30, too?!
1.
Jumpsuit
-
Carrie
showed this adorable jumpsuit a couple of weeks ago and I bought it immediately. It's only $20 and super cute! It comes in several colors, too!
2.
Matcha
- My husband brought this home from an expo in California and I fell in love! It's so flavorful and a great summer drink! Did I mention it has 0 calories?! You can even get individual serving packets. I tried a different brand and was not impressed. This is the way to go!
3.
Turquoise statement earrings
- I've been all about the statement earrings lately! Amazon has so many amazing choices and most are between $10-15. This is one pair I got that I love!
4.
Swimsuit cover up
- I bought a different coverup that I didn't love, so this one is in my cart as a replacement. Isn't the blue and white so pretty?
5.
Palm print bikini
- I mentioned this in last month's budget post, but I had to include it here. I really love this bikini and it shows less skin so I feel much better in it.
6.
Floral one piece
- This was another swimsuit I got that has ruching in the stomach area to help disguise lumps and bumps. I like that the top can be strung in 2 different ways.
7.
Black ruched dress
- I got a similar long sleeved version of this dress from Nordstrom. This is a nice budget option! I sized up so it wasn't super fitted and love it!
8.
Phone case
&
holder
- My phone case needed an upgrade so I got this pretty blush colored one with a holder for spring and summer. It's really pretty in person and the holder matches perfectly!
9.
Bronzing mist
- I have seen this recommended b several bloggers and bought it to try out for myself!
10.
Straw fedora
- Isn't this hat the cutest? And it's right on budget at under $20! I just can't decide on the lighter or darker straw color.
11.
Straw bag
- Straw bags are always trending each spring and summer, but some of them can get really pricey. This one is adorable and under $30!
12.
Acrylic earrings
- I had to add in another set of earrings! This set includes all 6 for $12. Only $2 a pair! I love the variety and how cute they are!
I also wanted to share my last outfit from vacation. It's a lot more colorful that I typically wear, but the bright pink, yellow, and palm print had such a tropical feel to it I couldn't resist. These pieces are all old, but I linked to similar ones available. I'm always drawn to brighter colors in the spring and summer. If you are more cautious with your colors like I am, you can always try adding in more color with accessories. I added the third bright color with my earrings so it isn't quite so bold and kept my accessories neutral.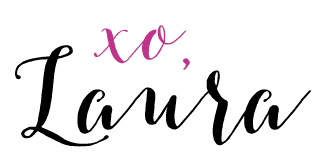 linking up with

Thursday Fashion Files,

High Latitude Style, Thursday Moda, A Labor of Life, Chic and Stylish , Weekly Style Edit, Trendy Thursday,
Fas
hion Frenzy
,
Friday's Fab Favorites
,
Fabulous Friday

,

On the Edge of the Week

,

Fancy Friday,
How I Fall, Shoe and Tell, On Mondays We Link Up, Weekday Wear