I LOVE my accessories. They can really change up an outfit. Adding just a necklace or belt or earrings can pull your look together and complete it. I put on accessories everyday. Every. Single. Day. Lately I haven't been wearing many of my larger necklaces or earrings (sweet Aveline has a case of the grabby hands), but I've found some things that still work well. Typically you will find me wearing a pair of diamond studs, a watch, my few standard rings, and a small necklace. I've found that even with a little one I can get away with these accessories without too much tugging. When oNecklace reached out to me to try one of their products, there were a few pieces I debated (they have so many fun things!), but ultimately kept coming back to their
monogram necklaces
. I chose the
Celebrity Monogram Necklace
in gold for myself and I have to say it's been so much fun to wear! It's a little larger than most of my other dainty, everyday necklaces so it makes a little more of a statement without overpowering. It came so nicely gift wrapped, too! I've absolutely been loving wearing it!
Last week's most popular post was from
Karen at Lady in Violet
with her fabulous orange ruffle top! Isn't it the cutest?!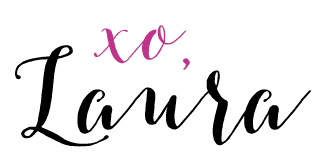 linking up with Style Sessions, Walking in Memphis in High Heels

and

Fashion Canvas, Style with a Smile,
Turning Heads Tuesday, Spread the Kindness,
What I wore,
Oh Hey Girl,
Color and Grace,
Jersey Girl Texan Heart
,

Style

Perspectives,
Midweek Inspo,GYPO, Style on the Daily