This shop has been compensated by Collective Bias, Inc. and its advertiser. All opinions are mine alone.
#ScrubDishCloth
#CollectiveBias
I love cooking for my family and I know they love it, too! When Matt came home last week after a week-long business trip, I knew I wanted a hearty, home cooked meal for him. I decided to make meatloaf which is a meal he always enjoys! It's an easy to make meal with lots of flavor sure to please and I am sharing the recipe today!
Please note that even though I prefer to use 1 pound of ground turkey and 1 pound of lean ground beef, it can really be personalized to what you prefer.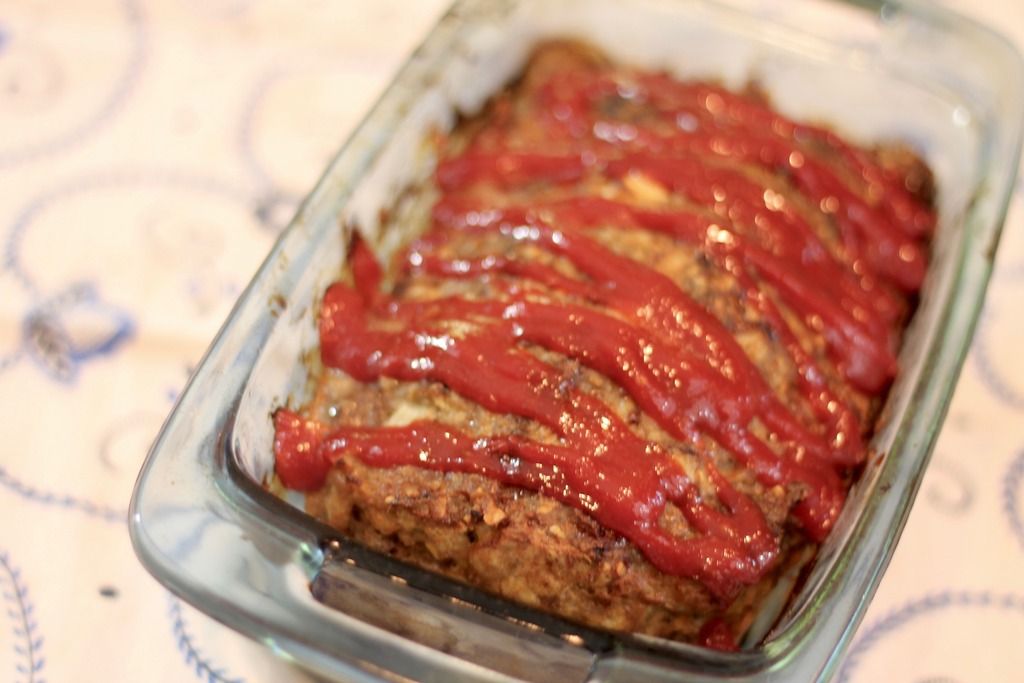 Tasty & Flavorful Meatloaf
This is a family favorite and I love to mix up the kind of meat we use, too!
Ingredients
1 pound

ground turkey

1 pound

lean ground beef

3/4 cup

quick cook oats

2

eggs

1

onion, diced

1 T.

minced garlic

1 t.

pepper

1 packet

ranch seasoning

1 packet

italian dressing seasoning

1/3 cup

ketchup
Instructions
1. Grease loaf pan with cooking spray and preheat oven to 400F.
2. Mix all ingredients except ketchup in a large bowl until combined.
3. Pat into loaf pan and bake for 55 minutes until meat has reached internal temperature of 165F. 10 minutes prior to end cooking time, remove meatloaf from oven and spread ketchup on top then baking for remaining 10 minutes. Let meatloaf set for approximately 10 minutes before cutting.
Details
Prep time:
Cook time:
Total time:
Yield:

8
Although this delicious recipe is a family favorite, I don't make it too often because the clean up
can be difficult. But all that has changed now with
Scotch-Brite
®
,
the brand you trust for sponges, bringing you a "supercharged" dish cloth with their
new

Scotch-Brite® Scrubbing Dish Cloth!

I headed to my local Target to pick up a pack. They were easy to find in the kitchen tool area.
They are available in 2 packs in gray, mint, coral and navy for $4.99. You c
an save
now on Scotch-Brite Scrubbing Dish Cloths at Target with this Cartwheel offer until 6/25/16!
I love blue so I picked up a pack of the navy.
The
Scotch-Brite Scrubbing Dis

h Cloth's
s
crubbing power makes cleaning easy! It
has the wiping and drying aspect of a dish cloth with added scrubbing power. The premium, textured fiber dish cloth has two different sides, one with scrubbing dots technology originating from stay clean sponges which scrub, but will not scratch any surface. The other side is a high quality, fiber cloth to create a dish cloth
which provides a quicker, easier clean. Our meatloaf mess came off the pan in no time! Often I need to use my nails or even a knife to get some of the stuck on mess off our dishes, but with the Scotch-Brite Scrubbing Dish Cloth, the scrubbing dots really help to get everything off that a typical dish cloth couldn't. It gives you the versatility of a dish cloth, but its scrubbing power means you can take cleaning to a whole new level.
This sturdy premium fiber cloth is fully washable, and reusable. It can be easily washed and used again and again. I really appreciate the 2 pack because one dish cloth is great for dishwashing and the other I use for cleaning counter tops. I use the the premium weave cloth side with my DIY granite/all-purpose cleaner to wipe off my counter tops. I started making my own cleaner a couple years ago after finding out that many cleaners contain elements that can be abrasive to granite. After reading tutorials online and trial and error on my end, I created my own. Want to make your own cleaner? It's easy! You can find the tutorial below:
You will need:
reusable spray bottle
91% rubbing alchohol
distilled water
lemon essential oil
tea tree oil
mint essential oil
To make the cleaner, pour 15oz water and 15oz of rubbing alcohol into the spray bottle. Add 1-2 drops of tea tree oil, 1 dropper full of mint essential oil, and 2-3 droppers full of lemon essential oil. You can alter the essential oil amounts to your desired scent.