This past weekend was all about me catching up on some sleep! I've been feeling a little worn down and tired lately and had an on/off migraine most of last week. So often when we don't prioritize sleep, it can cause negative effects on our bodies like headaches, irritability and more. So how can you get better quality sleep and avoid all those undesirable side effects? Take steps to get a better quality sleep! Think about where you DO get a good night's sleep, like at a luxury hotel. But a luxurious sleeping experience shouldn't be something that we seem to enjoy only at our fave hotels. There are several ways to get the quality of sleep you're used to experiencing at good hotels. Here are five tips that you can use in your home to get yourself some luxury shut-eye.
Rotate Your Mattress or Invest in a New One
A sturdy, well-made mattress is an essential part of a comfortable bed. If you're on a budget, consider rotating your mattress or looking for a great bed-in-a-box option from a manufacturer that sells directly to consumers. For a high-end mattress, you can choose from a variety of options such as the mattress from Westin Hotels and Resorts,

which you can order

on Amazon.
Rule of thumb: You can revamp a rotated mattress by buying a feather or memory foam topper to make your bed feel plusher and a mattress pad to keep that topper in place.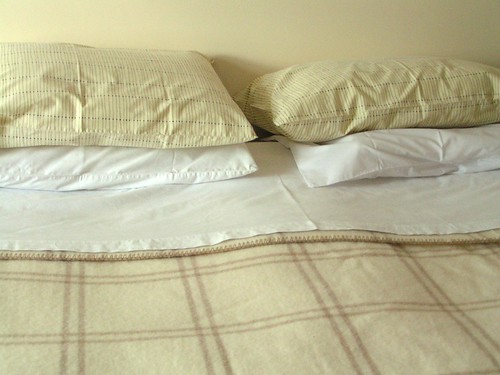 If you think of the last time that you slept well in a hotel, it's likely that you snuggled in a bed that was mostly made of white or other neutral colors. This is because neutrals are calming and can help you to enjoy a tranquil sleep.
Rule of thumb: Choose mostly neutrals such as beige, white, and taupe for your bedding and your bedroom to help you relax and sleep better.
Linens can boost the sumptuousness of your bed, and investing in high-quality ones can improve your sleep. Good linens last longer, which can also save you money in the long term.
Rule of thumb: Choose a tried-and-tested material for your sheets such as Egyptian cotton. Good material even with a lower 300-thread-count, which will always feel better than something scratchy or lower quality made with a higher thread count! For the weave, percale is a great, durable option that feels light and cool.
Make Crisp Linens a Must-Have
Freshly laundered sheets are a quintessential part of the comfortable sleep that we enjoy in good hotels. At home, our busy schedules can sometimes get in the way of keeping our linens as crisp as they could be. I like to iron my pillowcases and top sheet when I have time because it makes them feel so much smoother and more crisp when I slide into them at night. Think about storing them with dried lavender, a dryer sheet, or some other scent to keep them smelling fresh and clean!
Get the Temperature Right
The right temperature is a must-have for luxurious sleep. I just can't sleep if I'm too warm. I love to burrow under the covers in a cooler environment. Consider investing in the installation of an HVAC system if you don't have one. To control the atmosphere in your bedroom as efficiently as it's controlled in a hotel, maintaining your HVAC unit is essential. And while you are at it, you may want to think about a programmable thermostat. It can help you save some money and create the perfect environment without having to constantly readjust the settings. One of our AC units was damaged in a storm earlier this summer and we are currently getting quotes from companies to replace it. It's important to check the warranties, guarantees, and ratings of local businesses before you go under contract with them.
Rule of thumb: Consider hiring a company whose

HVAC service

has earned a high rating from a reputable reviewer such as the Better Business Bureau (BBB). Have them check your unit regularly and do a repair if necessary.
In a nutshell, you know what you need to do to up the luxury in your bedroom and get a better night's sleep. Save money on these changes by shopping around before making any purchases and starting small. These tips can help you work toward a more luxurious sleep.