Summer weather is here, but now that it is August the gorgeous weather won't be around for much longer. But why not enjoy it for the last few weeks and indulge in the beloved pastime of summer get-togethers. Whether it's an annual summer pool party or an impromptu barbecue in the backyard, summer get-togethers are a great opportunity to build lasting memories with friends, family, and neighbors. Before you can enjoy the

fun of entertaining

; however, you need to make sure your house is ready to accommodate your guests. Here are five ways to prep your home for summer get-togethers.
1. Keep It Cool
A natural first step is to

schedule an HVAC inspection

and take care of any necessary service or repairs to your cooling system. This is key to keeping guests cool and comfortable. Everyone will be happy when the only hot thing at the party is the food.
2. Stock up on Summer Essentials
Just like you stock up on tank tops in your closet for summer, make sure you have the essentials for hot weather when you have guests over. Things that always comes in handy to have for a summer get-together are:
Citronella candles and/or bug spray
Sunscreen
A cooler for ice
Water and element resistant tablecloths and utensils
Backyard toys for kids
Part of the fun of hosting summer get-togethers is the

accents and accessories

. You might want to consider a theme for your get-togethers or a few staple decorations. This could include themed dishware with matching napkins, a signature cocktail served in a special glass, or lawn ornaments.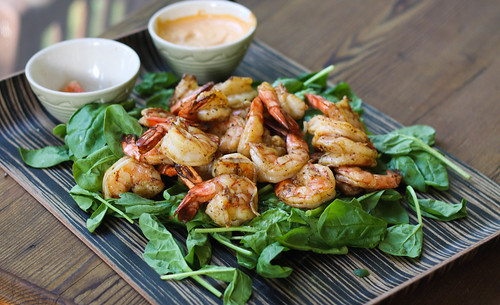 Image via Flickr by haiderzs
Regardless of how far you plan ahead, but especially if you're prone to last minute get-togethers, considering the menu in advance is key. Keeping your house stocked with non-perishable go-to items like chips and salsa, ice cream in the freezer, or the ingredients for your favorite summer drink can help you get the house ready for summer get-togethers on short notice.
Cleaning is a non negotiable if you want to keep your guests happy and coming back in the future. For a last minute get-together, this can be the fifteen-minute dash to remove clutter, put away the dishes, and wipe down your bathroom. If you're in a rush, you can only focus on the parts of the house your guests occupy, and ignore spaces that guests won't see.
When planning farther in advance, think about a deeper clean that includes things you might not have used since last year, such as outdoor furniture, tablecloths, and summer dishware. Keeping these things in good shape throughout the summer prevents starting from scratch each time.
Summer get-togethers bring joy, laughter and memories to last a lifetime. Without proper planning; however, you could end up with hot or hungry guests. While the guests, or nature of your gathering might change, these tips to prep your house can help make all of your summer get-togethers a success.