I absolutely love to plan parties for my children. I like planning parties and showers for other people, too. There is something so rewarding to see others enjoy themselves and the guests have fun. Through the years I've learned a certain order of planning to help things go smoothly and efficiently as possible. The first thing I always decide on is the location, date/time, and theme. Setting the date and location is the most important, but once you decide on the theme it can help drive other decisions that must be made including decor, invitations, games or activities, and sometimes even the food.
I'm pretty picky about my invitations. I love them to match the colors and theme of whatever party I am hosting. So many times when I find cute invitations that are pre-created, they aren't exactly what I am looking for. But I can't tweak them enough to make them perfect and then I end up spending hours creating an invitation myself and getting it printed, or making it with my cricut. I just don't have the time for that right now. And that is one of the reasons I was so happy to find
Basic Invite
.
Basic Invite is an online stationary website that allows you to create the perfect card, stationary, or invitation instantly that is completely unique. There are so many reasons why I love Basic Invite. Most of them have to do with the amazing amount of customization they allow. There are almost unlimited color options you can immediately preview online. You can literally change the color of any element on the card with over 180 different color options. There are also foil cards availabe in gold, silver, and rose gold that you can choose flat or raised foil on all the foil card designs. I had so much fun playing around and changing the colors of some of the samples I ordered. So if you find a card you like, but the colors aren't just right or don't match your theme, know that it can all be changed with the click of a button. And if you aren't sure, just order a custom sample. You can order samples of exactly what you designed to see if you like it in person, not just on a computer screen. I ordered several samples of their different cards to see how easy it was to design and how they turned out. I have to say I was truly impressed! I found their website easy to use and the invitations were a breeze to design and order samples of. You can even choose from over 40 different colors of envelopes and some card sizes have envelope liners with colors, prints, words, or even photographs! Basic Invite also offers an address capturing service which is really neat. You can share a link on facebook, twitter, instagram, or other form of social media to request your friends and family's addresses which will be stored in your Basic Invite account and be selected during the design process to have the envelopes addressed for you.
Here are just a few of the gorgeous items and designs that I picked out to try from Basic Invite.
Aveline is already 7 1/2 months old so her first birthday is in the back of my mind already. I tried out a
fun hot air balloon invitation
with matching
Thank You notes
from Basic Invite. I even played around with the colors and used their envelope liner option. This would have been so much fun for our wedding if we could have put our names and wedding date on it! I ended up having to get the paper for our wedding invitations ordered separately and then specially printed because I couldn't find the exact shade of green I wanted.
Another of their invitations I ordered a sample of was for a
garden party.
I added similar envelope liners. I was able to change the color of both the invitation and liners for the background and leaves so they matched!
When we buy our new home, I would love to order some personalized stationary with our address on the envelopes.
This design
really caught my eye, but I changed the frame to a crisp navy blue.
I loved these
Thank You cards
for Aveline's upcoming baptism. I actually preferred the 'boy' version of this, but added in some lilac and purple colors, too.
I had to save my favorite for last. I absolutely lo
ved all the little princess baby shower invitations! None of my friends are currently expecting, but maybe someday soon I'll be able to throw a Once Upon A Time themed shower and use these adorable invites! It's already got me thinking of storybooks and fairytale themed decorations. With this invitation

, bringing a book instead of a card would fit so perfectly! There are so many other '
it's a girl baby shower invitations', too that you can completely customize to fit your
aesthetic. I changed the colors on the sample I ordered because I love how the bright pink just jumps off the page and pops against the light pink border. The fairytale font and script font are really pretty, too!
If you are planning a party and need invites or even if you need some new stationary, you can use code 15FF51 for 15% off your order!
Once you have your invitations, you can then choose your decor, themed activities, and food. Personally, I love paper bunting because it's easy to make, customizable to your colors/theme, and so economical! You can get 5 triangles for bunting from one 10x10 paper sheet which is pennies at your local craft store. You can also find $1 frames for any signs you need to make or make your own prints for the tables or wall that fit the theme. I also like food that can be made ahead and use my crockpot for serving so the day of the event I'm not rushing around making, heating, or refilling food and I can actually enjoy myself!
How do you prepare for hosting a party?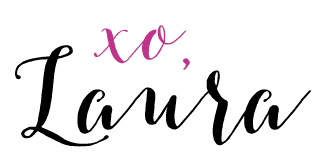 this post was sponsored by Basic Invite but all opinions are my own