November has been such a blessed month and we are so grateful! It's been incredible settling in as a family of 4 and I am really enjoying the time home spent with my girls! See what else I have been up to this past month.
Books I've Read
Books? Who has time to read any books with a newborn?! Hopefully I can get back to reading in the next few months as things calm down a bit.
Recipes I've Tried
Old El Paso Taco Dinner Kit

I got a package of these to try through Brandbacker and made them right before Aveline was born. It is a quick week night meal and the boat-shaped tacos make them so much easier to eat! My daughter loved them and commented on how her taco fillings weren't falling out the other end like they normally do!
I just made this soup this past week and used the rest of our turkey, mashed potatoes, and green beans from Thanksgiving. I added a lot of other vegetables, too. It was easy, hearty, and perfect for a cold day. I would recommend adding some salt though. Otherwise it tastes a little bland.

My mother-in-law picked this up for us while she was here and we just made it this week. It's a delicious cake-like pie with marshmallow creme. We love it topped with whipped cream! I don't know if it is still available in stores, but I found in on amazon and linked to it above.
Skincare Products I've Been Using
I received
Neostrata's
SKIN ACTIVE Tri-Therapy Lifting Serum

from Brandbacker to try out. I have used some of Neostrata's products before and had a good experience with them so I was looking forward to giving this one a try. Neostrata has a passion for developing the very best in anti aging physician grade skincare. Neostrata works to create highly effective formulations with results that are proven by

rigorous

studies. Each product is backed by the highest standards of quality and effectiveness.
It

is formulated with a triple anti-aging complex to help volumize and sculpt skin, filling the look of deep wrinkles and improving the appearance of skin laxity. While I don't have deep wrinkles, I do have some fine lines forming that I have been noticing more and more in the past few weeks. Lack of sleep really does a number on your skin and of course I want to do whatever I can to combat that. This formula is made to help v
olumize slack skin, help to
plump and firm skin for a more lifted appearance, r
enew tone,
enhance exfoliation and even pigment for enhanced clarity, and s
mooth skin
by
providing surface hydration and exfoliation for increased luminosity.
To use this, simply a

pply 3-5 drops to the face after cleansing in the morning and evening. Follow with a moisturizer.
The before and after photos on the website (
here
) are impressive showing a drastic improvement in the eye area with crow's feet and on the rest of the face with improvement in skin tone. I haven't been using this for 12 weeks yet, but I am very excited to see the results. I have been noticing some fine lines around my eyes lately and would love to improve that area. With pregnancy, I also developed some melasma on my cheeks and forehead. After using this product for a week, I have noticed that is fading and I don't need as much foundation to cover it up each day. I was sure I was going to have to see a dermatologist to fade it, but now I can't wait to see how much my skin will improve after using this for a full 12 weeks.
What We've Been Up To
Honestly we haven't been up to much! Just settling in and trying to get into a routine (as much as possible with a newborn). Figuring out nighttime feedings is always tricky! Claire is still attending daycare 3 days a week because we thought that would be best to continue what she is used to. It also gives me time to focus on Aveline a few days a week which is really nice.

We had newborn and a few family photos taken last Saturday by my talented friend Michelle from Holm Photography. I can't wait to see them and order baby announcements and Christmas cards! I swear I don't trust anyone else to take our photos now. She does such a great job! The photo at the top was one we took with our iphones during the photo shoot.
We started a sticker chart for Claire where she can earn Big Sister 'dates' with a parent for being a good listener. We hope it will reinforce her helpful nature and listening to her parents (which can sometimes be a struggle). Hopefully it also allows some nice one on one time with her. She was an only child for almost 5 years so I want to make sure she is getting attention, too. Michaels has children's craft classes almost every Saturday for only $2. It's a great opportunity for a Big Sister Date for a good price! We signed her up for some zoo classes in the upcoming months as well. If you are in the Milwaukee area with kids, the zoo membership and zoo classes are phenomenal!

Our house is all decorated for Christmas! We decorated the day after Thanksgiving and everything looks so pretty. I just love how extra cozy and festive the house feels with all the holiday decorations up. Most of the gifts are purchased, too. There are a few lingering handmade items I still need to do, but we are hoping to work on them this weekend.
We are all looking forward to December and celebrating Christmas together with family!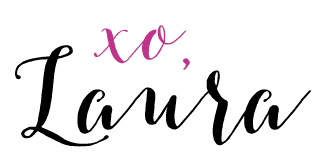 Linking up with
Anne
and
Catherine